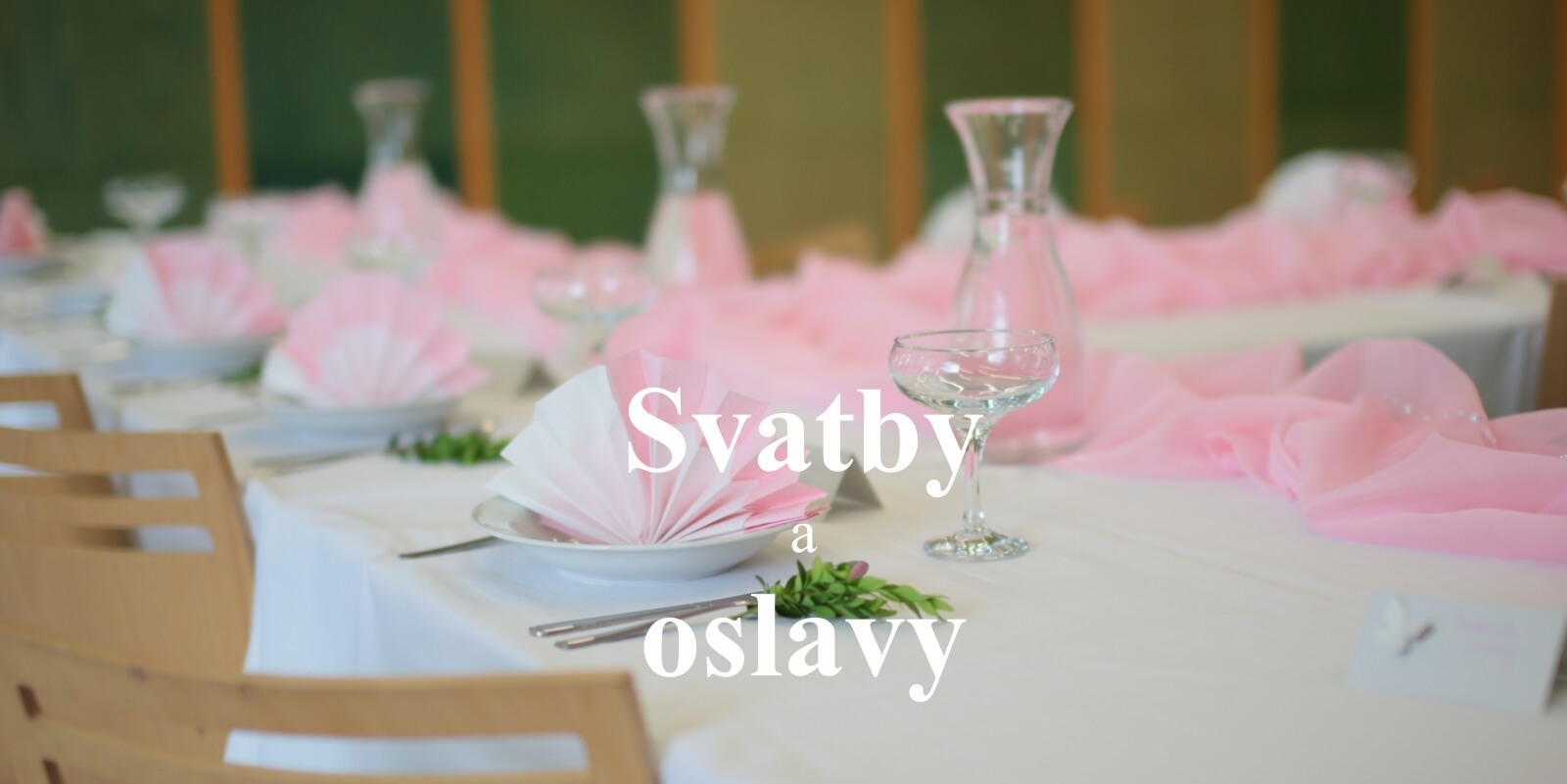 Weddings and parties
Areas for weddings and parties
Beautiful environments of Vyhlídka resort enables you to experience a romantic wedding. The conference hall with a bar, a stage for a band and space for dancing is ideal for a wedding up to 80 people. The central hall would be more suitable for larger groups (holds up more than 100 people) or join both rooms into a large complex which holds up to 180 people.
Catering
We will provide and prepare meals in agreement with your demands including special occassion menu such as banquets, piglet grilling or barbecue….. We mainly cook Czech and Moravian cuisine from regional products.
We can serve appropriate meals to people with gluten free diet, food allergies and other kinds of diets. All is taken care for by educated personnel who takes a big effort in meeting all our clients´ demands. We bake our own home made gluten free bread. We have chosen several meals for inspiration when preparing your wedding menu.
Accomodation
We offer accomodation in variety of rooms: from double rooms to 6-bed rooms with a balcony or a terrace. There is a magnificent view from each room into a forest-grown landscape and a pond. Each room is equipped with a bathroom with a shower and a toilet in each of them. Vyhlídka is wheelchair accesible with a lift. A room for newlyweds is free of charge.
Sports activities
Our large outdoor premises (16 500 m2) offer two multi-purpose sports fields as well as a basketball corner, a large children playground, a teepee, a natural pond and a small amphitheatre with a campfire ring. There is a horse run-out and a zoo corner adjoining our property. You can play table tenis, table football and darts inside the building and jump on a trampoline outside. The countryside around the facility is perfect for strolling or outdoor games.
Contact us
We look forward to your visit.

REKREAČNÍ ZAŘÍZENÍ VYHLÍDKA
Češkovice 158, 678 01 Blansko

Copyright © Kolpingovo dílo ČR 2023
Provozovatelem REKREAČNÍHO ZAŘÍZENÍ VYHLÍDKA je Kolpingovo dílo České republiky.
"Otevíráme srdce a podáváme lidem pomocnou ruku, aby uměli být sami sebou a našli si své místo v rodině i ve společnosti."